You can import your club's bank statement to automatically match received payments with your invoices, and review a list of members who have paid their fees and who have not.

How does it work?
Bank import and payment matching is a way of letting Sportlyzer do the time consuming manual work for you. By importing your club's bank statement file, Sportlyzer analyzes the file and compares it against the invoices created for your team. When the system finds similarities, it connects them automatically and shows you the results. Here are some examples of how the system can make the matches for you:
The payer's name in the statement file is one of your athlete's family contact
The explanation field contains invoice number or athlete's name
You have manually made a match before, hence telling the system that these people should be connected from now on
Remember, you will always have control of the progress. The system gives you suggestions which you can confirm or edit. 
Which file types are supported?
The bank statement has to be in ISO 20022 XML file format in order for the import to work. Some forms of XLSX (Excel files) also work but there is no guarantee. If your bank statement does not work with Sportlyzer, please contact us and we'll see what can be done to get you on board. 
The process
Navigate to the Invoicing tab and choose "Bank import" from the top right.

 Upload the bank statement file to Sportlyzer:
Download the bank statement from your bank
Find it on your computer and upload it
Click on "Import" to import the file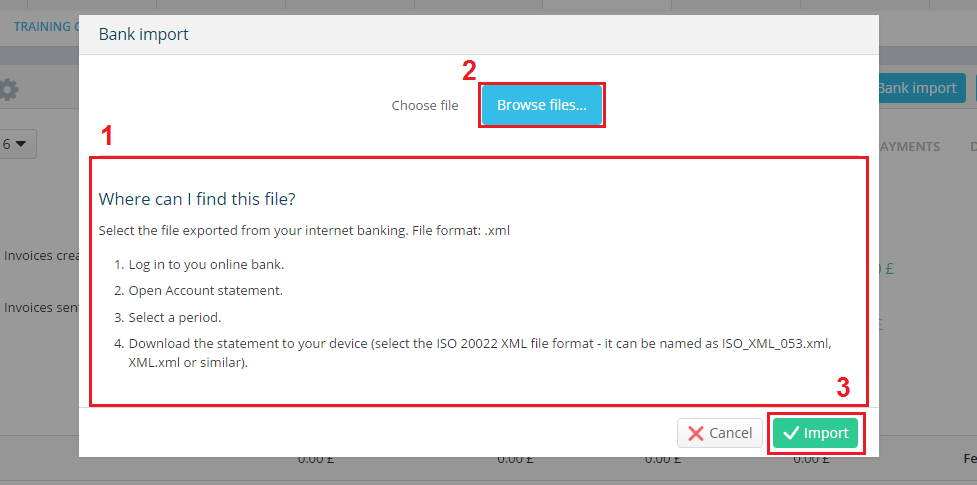 Check and confirm automatically made matches:
Go to the "Payments" tab on the right

Choose the appropriate month and year (the red number next to the month name is an indicator that you have unconfirmed matches in that month). 

Take a look at the matches below. All payments from the bank statement file will be shown here

The matches found between the bank statement file and invoices created by you will be shown here. If more than one invoice was found to match the payment, then the payment amount will be divided between those invoices automatically

Click on the "edit" button to make changes to the matches found (scroll down to see how to edit the matches)

Confirm all the matches

 Editing the matches
If necessary, remove one of the matches by unticking the checkbox "Paid" 

Change the amount contributed to one invoice or the other. If you have more than one invoice, the total amount of all the invoices has to be the amount paid

If you want to match an invoice not listed (e.g. when there was a mistake or when no match was found), then click on the "Search a specific player or invoice" button. Search for the person or invoice you believe the payment was made for and add it by ticking the box "Paid". 

Save your progress

(If the payment was not related to any invoices on Sportlyzer, then simply delete the payment by clicking "Remove")