This article is meant for beginners, who want to know how to set up a club and start working with Sportlyzer. In this article, we are going to create a new club from scratch and are going to complete all the steps, which are essential for every new club. If you want to see all the features that we have to offer to make your sports club management easier, read about the features here.
This article will cover:
How to create a new club
After signing up as a new user, you will be guided through the "Create a new club" process. 
Enter the name of your club and other relevant data. We have also included a really fast way to add your first training group and its weekly training that will be automatically added to the calendar. This will get you started right away.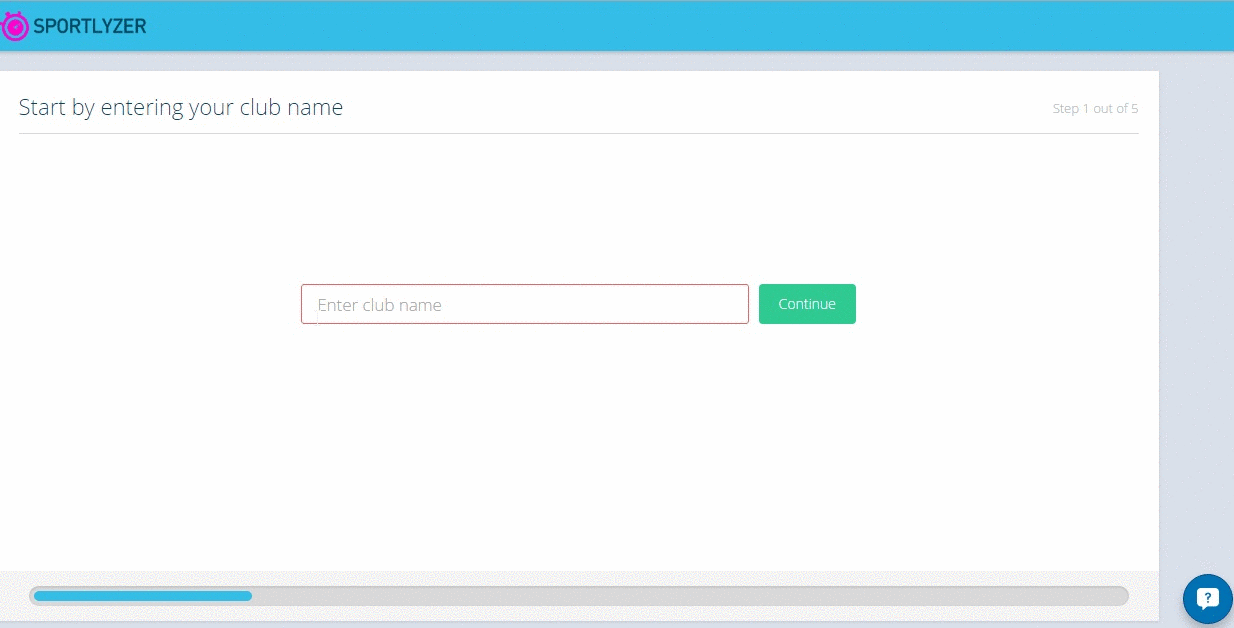 Set up your profile
The online profile lets you share your club data with your team members as well as with people looking forward to joining your club via Sportlyzer Club Finder.
More information about setting up your profile can be found here.
Setting up your profile is not obligatory, but it is definitely useful. 
Import athletes using Excel
The first thing you want to do after you have created a new club is adding your athletes. Why not try it out with a couple of athletes to explore all the functionality?
The first choice is to add the names and contact email addresses manually and then send a link (Request profile update feature) to the athletes to fill in the data themselves. If you already have an Excel file with the athletes, you can import this to Sportlyzer. Here you can see my Excel file:
To import my athletes from this file, I need to go to the "Athletes" view and select "Add athletes" option. The import process itself is really straight forward and flexible. Go and have a look at this article to learn more about this process.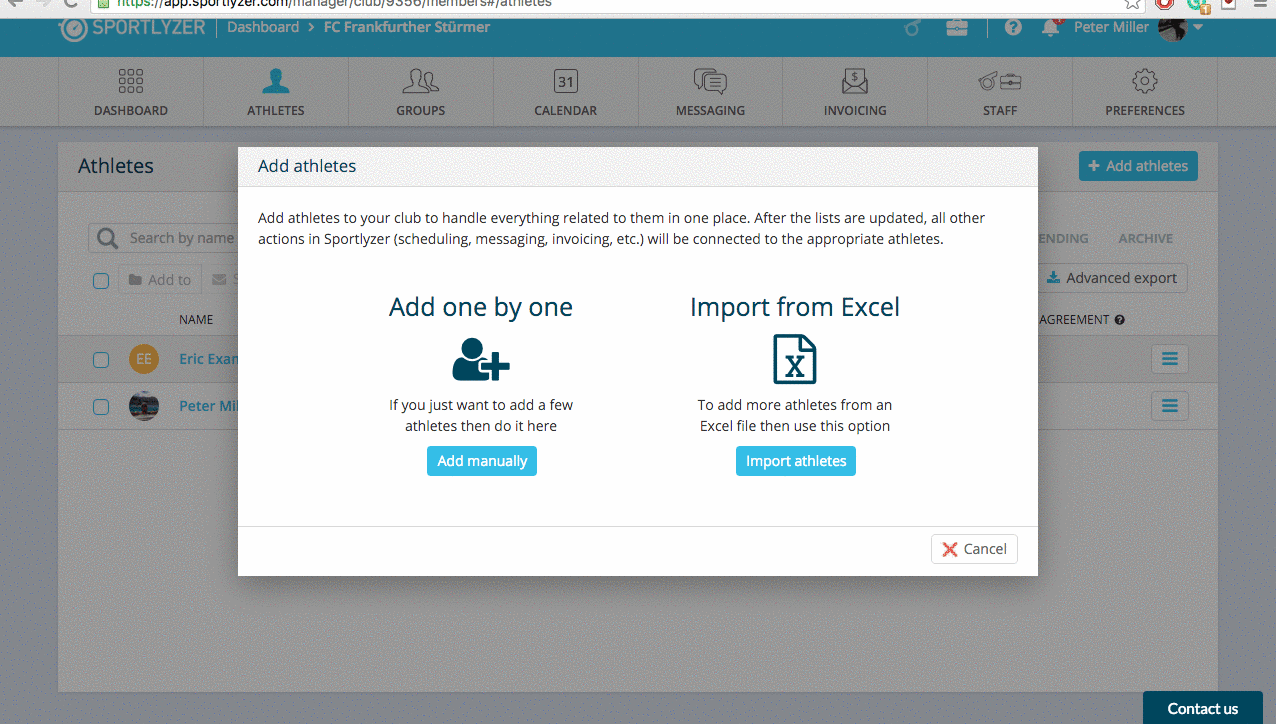 You can also create a column for groups (if you haven't done that yet) to automatically divide all players into groups. You don't need to create groups before doing that: when you import the file to Sportlyzer, groups will be created for you. 
If you wish to send invoices, requests and different messages to your players, make sure to enter their email addresses. 
Creating training groups
The next step is to create training groups and add athletes to these groups. Athletes are allowed to be in many groups at the same time, which allows you to create additional groups for different purposes (e.g. many of our users prefer to set up additional groups for different price categories, which allows them to save time while creating invoices).
Click on the "Groups" page and on "Add group" to create a new group. You can add members to this group in the group profile.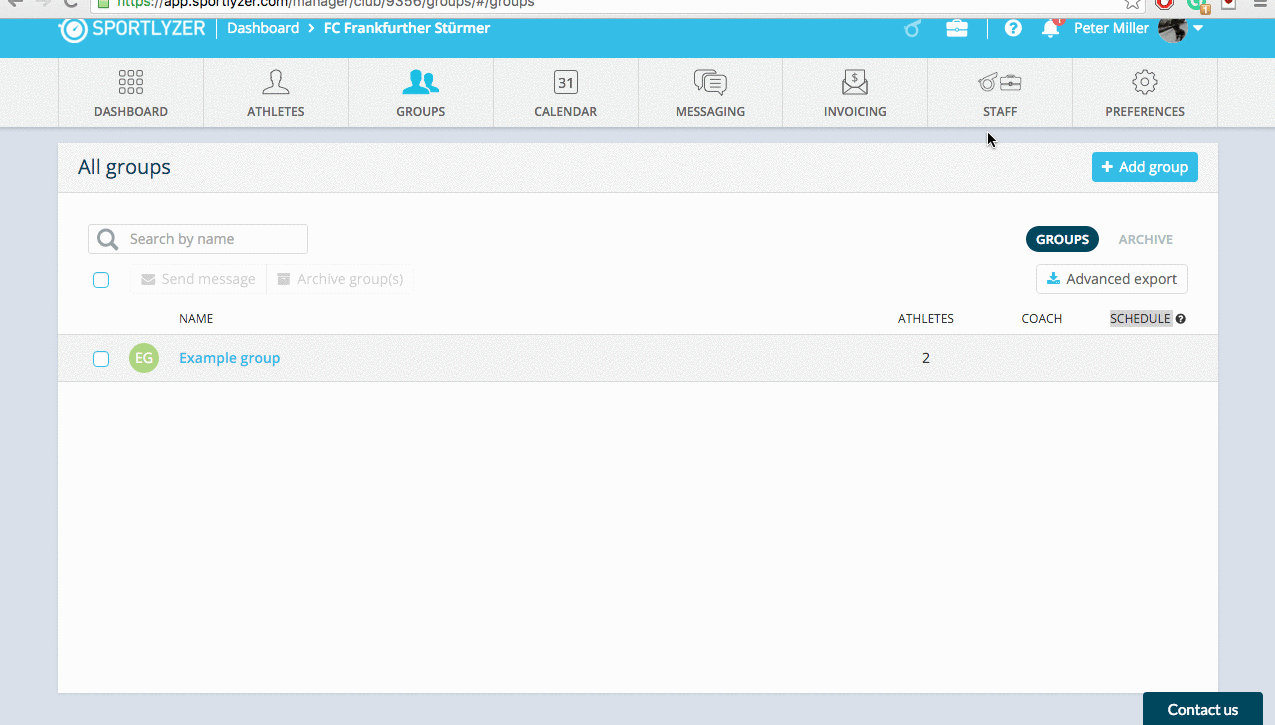 Getting your coaches on board
You most certainly are not going to work alone on Sportlyzer. You want to have your coaches and administrators join your club as well. By assigning them different roles and right you are able to control, what each staff member is allowed to access and change. Click here and you will find all you need to know about the difference between coaches and managers.
To add new staff members, go to the "Staff" page and click on "Add staff member". 
All you need to do is enter their names and email addresses, after which they will receive an email with instructions on how to create an account (and a link/button to do that). Find more information about adding coaches and Managers to Sportlyzer from here.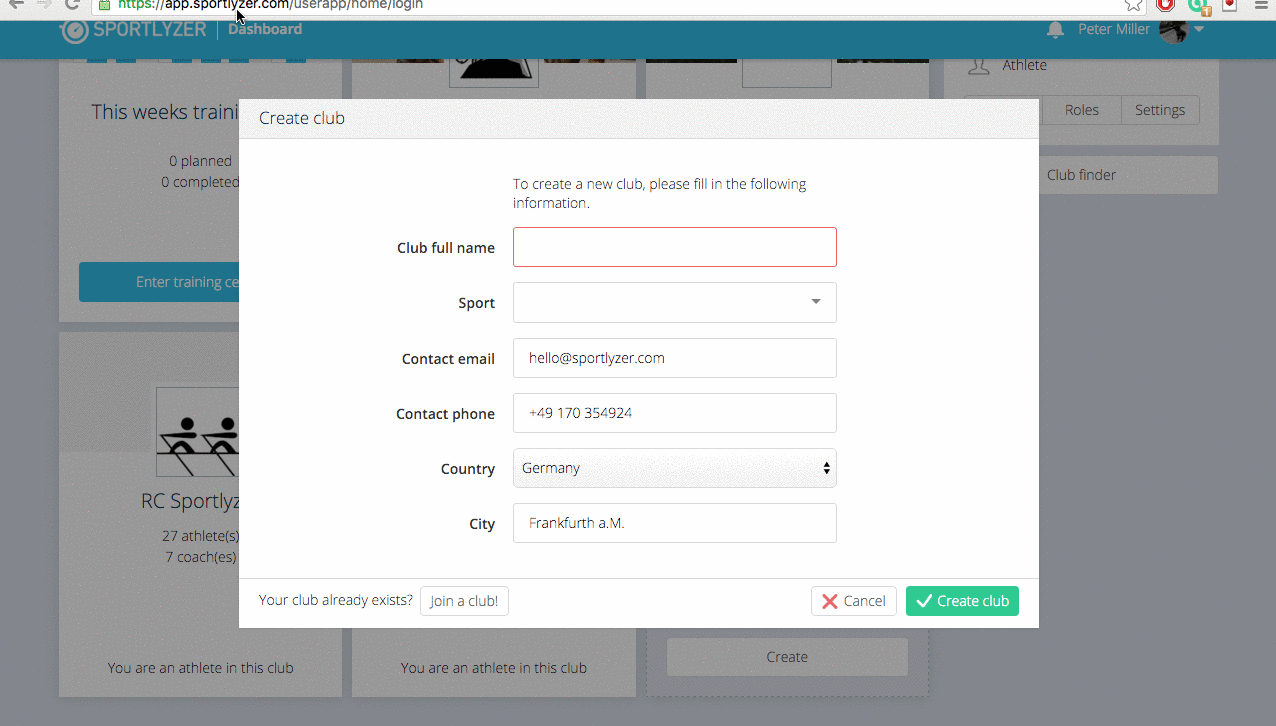 By assigning your coaches to different groups and giving them different rights, you can make their work easier and customize their rights according to their actual position in the club. Click here to find out more about adding new coaches and managers to your club.
Setting up a training schedule
You are nearly ready to go. You only need to set up a training schedule for your training groups. Adding workouts one by one takes too much time, which is why at Sportlyzer you can create a training schedule, which automatically creates weekly repeating workouts for your groups (e.g. you say, that the Junior A Team has a soccer practice every Tuesday afternoon at 16:00 from now until the end of July and Sportlyzer will create these workouts for you). 
To create a schedule go to the "Calendar" page and click on "+ Add" and select "Add recurring week plan". Next you select a training group and create the plan.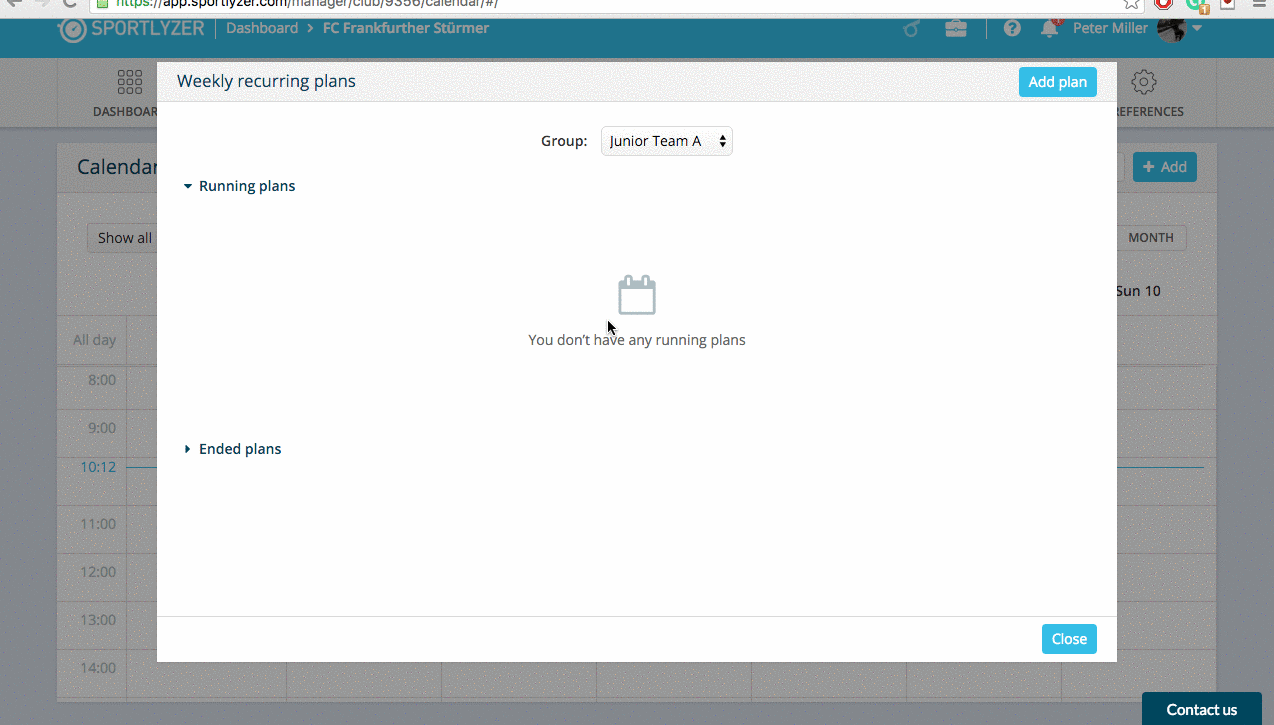 Click here for a more detailed description of this process.
PS: Don't forget to tell your coaches about the recurring week plan! It might be their duty to create these plans in the future.
Mobile apps
Sportlyzer is accessible in all your devices even in offline mode. Read more and get access to our Mobile Apps by clicking here. Make sure to share the links to your coaches as it will make their coaching tasks so much easier. 
Find more information about our functionalities
Sportlyzer offers a lot of different functionalities to make sports club management easier and faster. Discover the possibilities with the help of our articles in Help Center.
Categories that may be most useful for a starting club: 
Conclusion
Now you are ready to start testing Sportlyzer with your team. Please keep in mind, that there are many more features of Sportlyzer, which we haven't talked about yet. At the moment you are ready to go, but to take full advantage of all the benefits of Sportlyzer we advise you to keep learning.   
The Help Center has a lot of materials sorted into different categories for different features. If something looks interesting, don't hesitate to explore more or contact our Support team at support@sportlyzer.com.