Especially in Team Sports you have a lot of games and competitions and entering each game individually can be pretty annoying. This article will teach you how to import all your games and competitions from one Excel file and upload them to Sportlyzer in just a couple of minutes. 
You will learn:
How to prepare your Excel file to match the correct format
In order to import your competitions, you need to have or fit them to a certain format. You should download our sample file to see the exact format and the headers you should use.
Click here to download the sample file
If you want to see how easy it is to import all of your season's games, take a look at an example file of a soccer club senior group game plan for the year. Here is their file that's ready to be uploaded to Sportlyzer. Click here to download a filled in example file
 Just some quick notes to make your upload to Sportlyzer successful:
Please use the same headers as the sample file
Each competition needs a start date
If you use a start time you need to insert an end time as well
Competition name is also required
You can use any location name, but try to use the correct address
Now that you have your Excel file in a suitable format, you will learn how to upload your file.
How to upload your file to Sportlyzer
Go to the Calendar page and click on "Add".
Select "Import competitions"
If you haven't yet, download the sample file and transform your Excel to match with our format
Upload the Excel file you created 
Add coaches, groups or individual players who will automatically be invited to all competitions, which you just uploaded.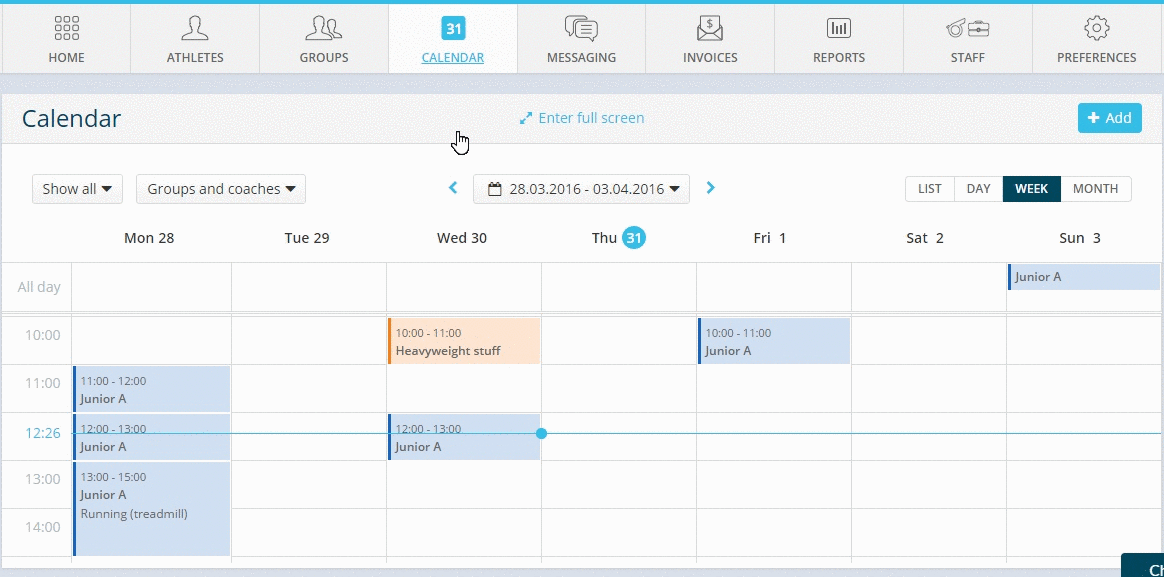 NB! If you have multiple teams or groups, please create separate files for each group and upload them one-by-one. This way it will be easier for you to link each competition to the correct group.
How to share your competitions with your athletes or players
There are different ways to share your competitions.
Invite training groups or individual athletes to your event when creating it.
Share individual availability links to your athletes so they can mark whether or not they are able to come to all future events. Read more about it here.
If you are part of a club, use the website widgets to put your interactive club calendar up on your homepage.
Allow Sportlyzer to send out weekly emails to all of your athletes containing their weekly schedules including their events and competitions.